Integra Technology
offers a wide range of services, to varied customers.
Buyers
of technical products or equipment, for installation and business use.
Designers
of new and innovative products who need assisstance in ensuring their design is compliant.
Importers
of technical products, sourced or designed overseas and without EU/UK compliance.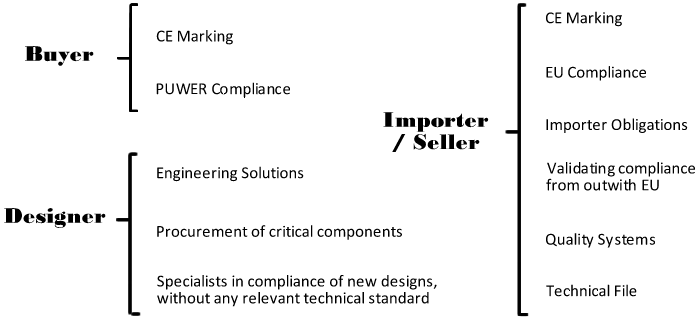 Click the tabs above to read more about the services available for each type of customer.

Integra Technology is a dynamic company providing compliance and consulting services to designers, importers and buyers of new and innovative products.

Compliance requirements are wide ranging and often confusing, encompassing technical standards, chemical testing and stringent national requirements.

Product compliance is key to ensuring both the safety of your technology and your ability to sell into your target markets Potential customers can be very demanding in their Due Diligence requirements for potential new suppliers of technology. The inability to supply this key information can block potential sales and reflects on the professionalism of the supplier.

In a factory environment, almost every machine purchased is altered in some way to suit its environment. It may be incorporated into a production line or additional guarding fitted to enhance safety. Either way, advice from the Health & Safety Executive is for the user to assess the safety of all machinery both to Supply Law and User Law.

Within our organisation we have an excellent practical knowledge of taking innovative, un-standardised products from concept design to final market, experience which we can draw on to help you get your new product selling.

Integra Technology has vast experience in all of these areas and can assist in ensuring that you are compliant and professional in your product presentation to the market.

The affixing of a CE mark is a declaration that a product meets all EU requirements in terms of Health, Safety and Environment.

CE marking forms the basis of product compliance in Europe. It is an absolute requirement for selling most machines and devices within the EU. A CE mark is affixed to a product based on its compliance with EU consumer safety, health or environmental requirements. This includes (but is not restricted to) meeting the requirements of technical standards, noise and vibration levels and Electromagnetic Compatibility (EMC).

Whether you have designed, manufactured or imported a device or product, it is essential that it is CE marked in order to take it to market. Integra specialise in innovative products for which no relevant technical standards exist – where there are no technical standards relevant to a new product, CE marking is based on the demonstrated assessment and control of risks. Integra Technology are experienced in assessing products and ensuring that a CE mark can be affixed.

Beyond CE marking, products must also be compliant with a number of other national and EU requirements. These can be significant barriers to market; buyers and retailers request proof of compliance as part of their Due Diligence and it is essential that this key information is available to be supplied.

Significant chemical restrictions – RoHS, REACH PAH/Phthalates different requirements in different territories - National differences – GS varied national requirements – recyclability etc – WEEE, battery regs, packaging regs, EuP

Integra Technology
has a a wealth of experience in product design engineering, sourcing components and manufacturing, as well as importing to the EU. Integra are ideally placed to help you take your design from concept to point of sale.
Are you a product designer, looking for advice on getting the product to a final design for sale?
Have you produced a concept product, but need to source far eastern components or manufacturers?
Do you have compliance issues with your current product design?
Integra Technology specialise in compliance of designs for which there are no relevant technical standards and has expertise in the following areas.
Engineering solutions
Problem solving, ensuring compliance, updating designs to standards, guarding / safety solutions
Manufacturing solutions
Procurement of Critical components, factory contacts, in depth knowledge of far eastern manufacturing
Close relationship with notified bodies / test houses - able to manage testing and design alterations
Documentation
User manual – assistance in creation and in ensuring compliance
Technical file – Gap analysis, provide structure, assemble, store and update
Quality systems – as required by EU directives
Product quality assurance – testing specifications, independent batch testing, advising on systems
Integra Technology
provides a number of services for importers of goods.
If you are an importer bringing products into Europe, there are a diverse range of regulations and requirements.
Are you fully compliant with the myriad of importer obligations?
We are able to advise on and provide services relating to EU importer obligations. See below for an overview.
CE marking services – advising on compliance of imported products
Ensuring affixed CE mark is valid or assessing requirements for a product to have CE mark affixed
Consulting on importer obligations
- Documentation: Technical File – Gap analysis, structure, creation, updating and storing
- Other national requirements – Chemical reports (RoHS, REACH), environmental (WEEE, packaging, batteries)
Consulting on quality systems – ensuring product safety and quality, CIG factory audit

Have you recently installed or modified a production line or large-scale machine?
Are you sure that you have complied with all essential requirements from both the EU Machinery Directive and UK Health and Safety legislation?

Integra Technology have years of experience in production line machine risk assessment, guarding and auditing. We can help you ensure that you meet the essential safety requirements for Production line machinery.

Integra provide consulting services to cover all safety requirements - For both the EU machinery directive (CE Marking) and UK health and safety legislation (namely PUWER requirements).

Assessing and advising to both CE marking and PUWER requirements

Risk assessments to the machinery directive standard and to PUWER requirements

Assessing or assisting in the creation of Safe work instructions